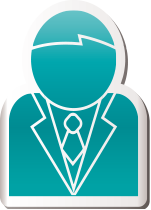 Self-employment is as much an option for work experience and as a post-school outcome for students with more significant support needs as wage employment. Through self-employment an IEP team may find that they can better match the individual's ideal conditions of employment and support needs which were identified during the Discovery process than they can through typical wage employment. Self-employment is a growing trend for all people, especially in more rural areas where limited job opportunities exist for everyone (Griffin & Hammis, in press). The strategies and principals intrinsic to self-employment also apply to a supported self-employment model. Students or adults do not need to be able to perform all components of owning and running their own business for self-employment to be considered a feasible option for them. Partial participation with needed ongoing supports for the life of the job is fine.
Self-Employment Scenario
Lance is a young man who began his own small business while he was still in high school. From his Discovery process we knew that he liked to be on the go, loved driving around, and visiting with familiar people. As part of his transition, he had participated in school-based and community-based work experiences that involved making deliveries. Lance lived in a small rural community. When we could not find a business that matched his ideal conditions of employment and needed delivery tasks performed his family urged the job developer to pursue self-employment. Lance now owns a delivery business and primarily delivers lunches for a local restaurant. He has a contract with one of the larger businesses in town to provide lunch to their employees twice weekly.
Lance and his brother combined their PASS plans to buy a van for their business. Vocational Rehabiltation funds made the van accessible and funded some of the initial job coaching. While Lance was still in school, the school provided a para professional as a job coach and driver of Lance's van. Now that Lance has graduated his family provides supports for his business. The plan for long-term supports is that as the business grows, Lance could look for another person to invest as a partner or an employee. Part of this person's job responsibilities would be to provide supports to Lance (including on-the-job support, driving the van, and some personal care), manage the business and assist with marketing and expansion of the businessAdditional self-employment resources:
Choosing Self-Employment [PDF], a monograph by Ellen Condon and Kim Brown
The Rural Institute Research and Training Center on Disability in Rural Communities
"Finding the Passion" , article by Cary Griffin and Dave Hammis
Griffin, C. & Hammis, D. (2003). Making self-employment work for people with disabilities. Baltimore: Paul H. Brookes Publishing Co.
(www.brookespublishing.com)